Page 4 of 4 •

1, 2, 3, 4

This is a recent book and very good. Good translation and commentary.
Admin




Location

: Not an admin, so quit pestering me


Number of posts

: 291


Registration date :

2008-08-15



You are very welcome x32




Number of posts

: 11


Registration date :

2011-01-09



After the Angel by Marcus Katz.
After The Angel

An Account of the Abramelin Operation

By Marcus Katz M.A. with a preface by Lon Milo Duquette.

Is it possible to gain the knowledge and conversation of your Holy Guardian Angel?

The Abramelin Operation, a mysterious 14th century manuscript, promises nothing less than to give the successful practitioner of its instructions the knowledge and conversation of their personal Holy Guardian Angel. Following a six-month ordeal of intense practices, the ritual is also said to give the Operant magical powers, control of demonic forces and the use of the infamous magical squares and talismans whose abuse would otherwise cause insanity or dire spiritual consequences.

In this landmark publishing event of the western esoteric tradition, the inner workings of its most profound and demanding spiritual ritual are fully revealed. Join modern magician Marcus Katz in a timeless journey to complete the 177 days of intense magick whilst living within a contemporary life.

In 2004, after thirty years of preparation, the author performed this working whilst maintaining a full daily journal. Within the course of six months, it would utterly change his life, his home, his career, and his family. It would produce miraculous events that took a further seven years to comprehend. It would turn reality inside out and reveal great mysteries of the divine world and our place within the Universe.

Only one other journal of this type has ever been widely published. Now, after almost forty years, After the Angel brings the Operation directly to a modern readership. This complete journal, packed with unique reference boxes, commentaries, footnotes and reading lists explaining key terms of the western esoteric and spiritual path, will take you on an unparalleled journey into the very heart of western magick and spirituality.

Most people wonder what it would be like to contact their Angel. In this incredible document you will be taken to that moment and far beyond … after the Angel.
I found his report of his experiences very interesting, lots of interesting references and related material shared.
Print on demand version found here
I'm also reviewing the Mathers and Dehn & Guth editions of The Book of Abramelin in conjuction.
Cheers
Agrippa



Age

: 54


Number of posts

: 42


Registration date :

2008-12-28



I have decided to put those books i've been reading on the side for now and will practice the magic daily from the knowledge i have attained from those texts, lately i've been growing a bigger interest in the qabala.
I have made a list of books i'm going to read on the subject for the time being.
For now i'm going to read these books one at a time so that i can make a nice and deep understanding of the Qabala.
The book i am first starting with is,
Dion Fortune- Mystical Qabalah
i know this book has not had many good reviews, not just here but on a few other sites, i am reading it now, and i have to say it's not that bad, sure it has some offensive material to some, but the aspect of the qabala is being taught in here very well. i plan on finishing this book either tonight or tomorrow but, so far, so good.
The Taming of the Demons: Violence and Liberation in Tibetan Buddhism
Interesting. It's about liberating people by, erm, killing them.
You can do a "look inside" on the Amazon page.
It's kinda funny, because the author has removed the scary mantra from his translation of a human sacrifice ritual. Apart from that, it looks completely boss. A+ Recommended.
Admin




Location

: Not an admin, so quit pestering me


Number of posts

: 291


Registration date :

2008-08-15



So far So good
I'm Loving It!!
Just got it in today im reading this as a priority over all other books and im scanning each chapter into the pc after i read them so that i can make a pdf and share it with the fellow community

"Alethia: Astrology in the New Aeon for Thelemites" by J. Edward Cornelius. I am enjoying this very practically oriented book.




Age

: 54


Location

: Berkeley


Number of posts

: 37


Registration date :

2009-09-09






Number of posts

: 11


Registration date :

2011-01-09



I'm Just About Finishing Up These 2 Titles, and have recieved a short while back a copy of the original version of Dion Fortunes- Mystical Qabalah Which is next this coming week.
Crowley & Regardie- Aha!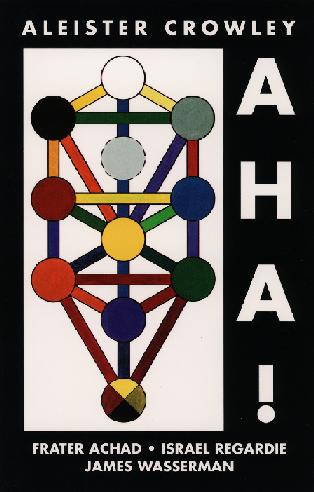 A great Book for those journeying through the tree of life, many outstanding understandings of the maneuvers needed to attain union with the oneness.
The Three Initiates- The Kybalion
Another great text! explains hermetic magic thoroughly and is not just understandable but very intriguing! will definitely open up the mind and the eyes of the magician.
Page 4 of 4 •

1, 2, 3, 4


Similar topics
---
Permissions in this forum:
You
cannot
reply to topics in this forum